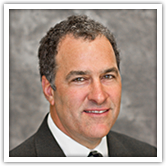 Dr. Barcelona is a partner and business psychologist with Humber, Mundie, and McClary, LLP, as well as a licensed psychologist in the state of Wisconsin.  Russ accepted the role of Managing Partner in Spring, 2016.
Russ provides client services in the areas of leadership assessment, talent management, organization analysis and executive coaching. He also develops, validates and implements employee selection systems for a wide array of manufacturing, insurance and financial corporations. Russ has initiated and implemented several leadership competency models to help guide the aligned human resources activities of succession, appraisal and leadership with various regional and global organizations. Russ develops a robust understanding of a client's business, mission and goals to build a strong partnership with senior management.
Russ' experience includes six years as the sole Industrial Organizational Psychologist at We Energies (formerly Wisconsin Electric). His role spanned activities such as succession planning, executive and management assessment, performance management and maintenance of all represented and non-represented selection systems. Additionally, he played an active role on a national task force for personnel research within the electric utility industry. Russ has experience and interest in managerial assessment and development, succession development and planning, organizational assessment, competency model development, performance management and test validation.
Russ has a B.S. in psychology from Saint Mary's University of Minnesota and an M.S. and Ph.D. in industrial and organizational psychology from Illinois Institute of Technology.