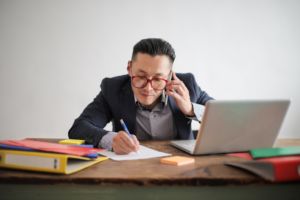 COVID-19 may be changing the way we do things, but it is having little effect on what things still need to get done – especially when it comes to choosing the right leadership for your company.
It would be an understatement to say these are challenging times. Workers now more than ever are looking for guidance from their leaders. After all, these people will make hard decisions, provide a confident vision and develop strategies to meet these new challenges head-on.
But what if you have a vacant supervisory or C-suite leadership role? You still need to ensure the candidates you are selecting have the right temperament, leadership style, and motivation to lead your company in this uncertain climate.
As our clients know, HMM offers three levels of Leadership Assessments – Comprehensive Assessments, Streamlined Assessments and Test Score Summaries – for this very purpose. Conducted or scored by one of our experienced business psychologists, these assessments are designed to provide you with details on your candidates' core competencies, leadership capabilities, ability to meet the challenges of the position, and more.
However, while we would normally conduct the interviews for these assessments in person, what many do not know is that we can perform assessments remotely.
This allows us to maintain crucial social distancing while confirming you have found the right leadership candidate for the betterment of your company.
Ready to learn more? Take the first step by contacting HMM today.